Falling in Love with Haiti
When the plane descends over the blue ocean, green hills, brown river path and then the grey cement of the sprawling capital city of Haiti, the feeling of anticipation and excitement starts to well up in my heart. I love this country – the good, bad and the ugly. I hope to communicate the way I feel about travel to Haiti in a way that will make you want to grab your passport, toothbrush and swimsuit for a vacation like no other.
The stewardesses of Air Canada Rouge help us get our baggage from the bins overhead – and despite strict regulations, no airline can persuade a Haitian woman that if a bag is carried on her head it still counts as a piece of "hand" luggage! The pilot stands at the open door to catch the hot breeze off the tarmac, and we carefully take the metal stairs down. This part always makes me a feel like Jackie Kennedy, minus the ever present bandana I have ready to keep the sweat out of my eyes.
A walk of less than 100 steps takes us into the arrivals gate, then up the non-moving escalator to be greeted by a live band playing "kompa". Kompa is that distinct Haitian music, similar to Jamaican and Bahamian light, delightful tunes mixed with steel drums and bongos. As a point of information, the current President is Michael Martelly, was a famous kompa artist before entering the world of politics. He's been known to break out some of his famous dance moves at elections rallies, and some believe he sang his way into the palace because of his huge kompa following. Sweet Micky is his stage name that he still uses with great pride, keeping him connected to his fans.
After following the signs for tourists, we go and pay the new $10 per person tourism tax. This was implemented this year and seems to set a precedent for the week that says, "You're white, so you'll be paying extra. Get used to it!". I now always have the cash ready and am happy that ladies serving me are friendly and chatty – another indication of how this visit will go.
$2 US secures us a "chariot", a quaint term for a luggage trolley. I pay at one counter, take a piece of paper smaller than a postage stamp to the trolley supervisor and collect mine. It's small but all the wheels work and this time, so does the hand brake. The luggage carousel starts immediately and the baggage starts coming around.
Again, an omen for the week – all the bags are thrown on in a haphazard manner, piled on top of each other without space in between. There's no chance of being able to see your string or tag with all the people swarming around. Note to self – never travel with a black suitcase again. They really all do look the same, and the purple ribbon I tied to the handle is like looking for a needle in a haystack.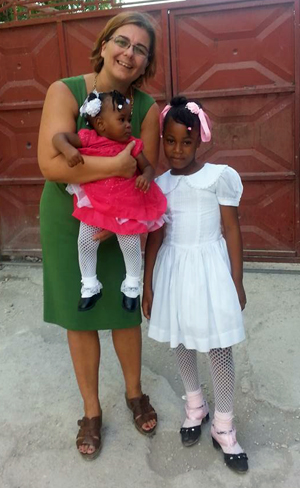 I am nearly overwhelmed by the heat, noise, pushing of people and the urge to get outside and meet up with our team. We clear customs without any incident – ever, not in 10 visits, and pass by the Information Desk. There's nobody there so I help myself to the latest Haiti magazine to look over later.
Making a Difference
Now we push past porters who think they are being helpful but are rather too opportunistic for my taste and we see our team waiting for us past the barrier. The three of them break into big smiles, we hug and pass greetings from mutual friends and ask after their families.
They take all our bags off our shoulders and I step out of the welcoming area into hotter sunshine and deafening traffic and filthy diesel fumes that make my eyes water. Or maybe those are happy tears. Home Sweet Haiti.
The faces of a few we met this last experience in early October 2015.