Wow!  What a Night!

More than 750 guests and supporters of the Hamilton-based organization Joy and Hope of Haiti gathered together on May 28 for their annual dinner and fund-raising auction.  The auction committee volunteers hundreds of hours to bring about one of, if not the largest, charity events in the GTA.
Carmen's Banquet Hall in Hamilton hosted the event, with doors opening early for a team of volunteers to get started setting up…not just the tables and decor, but over 400 silent auction items! Items that included bicycles, paintings, gift baskets and 12 pizza boxes from Domino's where one lucky bidder could buy 'pizza for a year'!
The live items included not one, but two, weekly rentals of cottages in the Muskoka region as well as lunch with the mayor, Raptors jersey and tickets and Maple Leafs tickets.  The grand finale was Air Canada tickets that were raffled off – the winner and one guest could go anywhere in North America, including Hawaii or Alaska (or Haiti, which is where I would have picked!)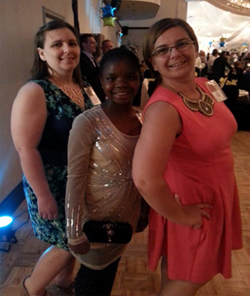 Here's a photo of my sister Abigail (she came from Newfoundland for the weekend) and my older daughter, Shantaya, and I greeting and helping guests find their seats.  We had a wonderful time at the event and got to meet some wonderful people that serve with Joy and Hope of Haiti.